Mi az a LENYO térharmonizátor?
A LENYO Space Harmoniser egy elektromos wellness készülék, amely biztosítja, hogy a minket körülvevő elektromágneses környezet összhangban legyen a szervezet alapvető rezgésigényével.
Mindenki tudja, hogy komplex elektromágneses környezetben élünk.
A Föld természetes elektromágneses mezőjétől kezdve az okos eszközeinkig szinte minden hozzájárul ehhez a mezőhöz, még az emberi test is[1, 2, 3]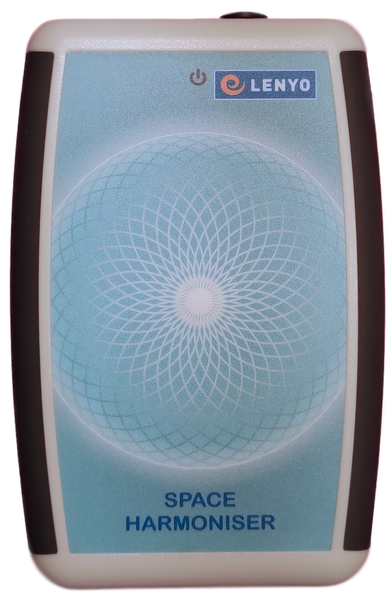 Ennek az összetett elektromágneses mezőnek a minősége nagyon fontos mind fizikai, mind mentális egészségünk szempontjából.
Az elmúlt évszázadban környezetünk elektromágneses mezője jelentősen megváltozott a technológiai fejlődés általános bevezetésével. Itt az ideje, hogy a modern technológiát felhasználva helyreállítsuk bolygónk optimális rezgéskörnyezetét. A LENYO Space Harmoniser készülékeket úgy tervezték, hogy 8 méteres körzetben ilyen kellemes környezetet teremtsenek[4].
[1] Öt tudományos publikáció:
1.) Zeitgebers of skeletal muscle and implications for metabolic health (Brendan M. Gabriel, Juleen R. Zierath in: The Journal of Physiology; 07 May 2021  https://doi.org/10.1113/JP280884      https://physoc.onlinelibrary.wiley.com/doi/full/10.1113/JP280884;
2.) Aleksandr S. Presman: Electromagnetic Fields and Life (Plenum Press, 1970) https://link.springer.com/content/pdf/bfm%3A978-1-4757-0635-2%2F1.pdf;
3.) William Ross Adey: Biological Effects of Radio Frequency Electromagnetic Radiation (in James C. Lin: Electromagnetic Interaction with Biological Systems; Springer, 1989);
4.) Dallmann R, Viola AU, Tarokh L, Cajochen C & Brown SA (2012). The human circadian metabolome. Proc Natl Acad Sci U S A 109, 2625– 2629.;
5.) Ding G, Gong Y, Eckel-Mahan KL & Sun Z (2018). Central circadian clock regulates energy metabolism. Adv Exp Med Biol 1090, 79– 103.
[2] Three clearly written books by the eminent orthopaedic surgeon, researcher and university professor Professor Becker:
1.) Becker Robert O. Becker, Andrew A. Marino: Electromagnetism and Life (1982);
2.) Robert O. Becker, Gary Selden: The Body Electric (1985);
3.) Robert O. Becker: Cross Currents (1986)
[3] A historical summary of the biological role of electricity:
Arthur Firstenberg: The Invisible Rainbow – The History of Electricity and Life (2020)
[4] A Lenyo Space Harmoniser hatótávolságának mérete a környezetében lévő eszközökkel és tárgyakkal való kölcsönhatásától függ. A nyolc méteres hatótávolság ideális esetben vasbeton falak és egyéb módosító hatások nélkül értendő.