Hogyan segíthet a LENYO Space Harmoniser?
A LENYO Space Harmoniser készülékünket úgy terveztük, hogy mind a káros elektromágneses mezőkkel, mind a 8 méteres hatótávolságon belül tartózkodók biomezőjével interferáljon.
Úgy működik, mint egy átjátszó, amely az elektronikusan szennyezett környezet és az Ön biomezője közötti információkat kezeli. A másodpercenként több ezer biofeedback visszacsatolásnak köszönhetően az Ön biomezője képes lesz kiszűrni az E-Smog káros hatásait.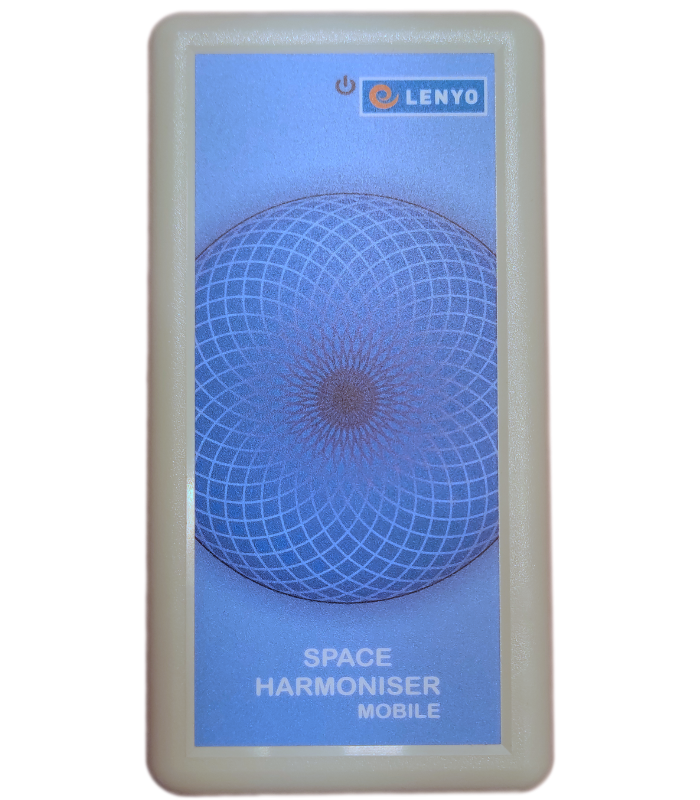 Ez azt jelenti, hogy a LENYO Space Harmoniser nem befolyásolja más (intelligens) eszközök működését. Ehelyett "megtanítja" a felhasználó biomezőjét, hogy kezelje azok negatív hatásait.
Ennek eredményeként a LENYO Space Harmoniser használata közben még egy elektroérzékeny személy is képes lesz elektronikus eszközöket használni (vagy egy transzformátor mellett tartózkodni), mindenféle káros hatás nélkül.
Milyen előnnyel jár a LENYO Space Harmoniser használata?
A LENYO Space Harmoniser legkorszerűbb PEMF (impulzus elektromágneses mező) készülék, amely jól-létet biztosít ott, ahol a WiFi, mobiltelefonok, számítógépek, vezeték nélküli eszközök, mobiltornyok, elektromos autók stb. potenciálisan káros elektromágneses sugárzást termelnek – amelyek nemkívánatos hatásairól számos komoly tanulmány született.[1].
Tapasztalatok a LENYO Space Harmoniserrel:
kompenzálja a mesterséges elektromágneses mezők többsége által okozott rossz érzéseket
olyan teret teremt, ahol a káros sugárzások ellenére testünk felfrissülhet és hatékonyan működhet
ugyanakkor nem csökken a használt távközlési vagy egyéb elektromos berendezések hatékonysága
ennek eredményeként a legtöbb ember jobb életminőségről, jobb munkateljesítményről, jobb alvásminőségről, valamint mentális és érzelmi egyensúlyának jelentős stabilizálódásáról számol be[2].
[1] Yael Stein, Iris G. Udasin: Electromagnetic Hypersensitivity (EHS, Microwave Syndrome) – Review of Mechanisms (2020) PMID 32289567; j.envres.2020.109445. Epub 2020 Mar 30. https://pubmed.ncbi.nlm.nih.gov/32289567/
Lena Hedendahl, Michael Carlberg, Lennart Hardell: Electromagnetic Hypersensitivity – An Increasing Challange to Medical Profession (2015) PMID 26372109; doi: 10.1515/reveh-2015-0012.  https://pubmed.ncbi.nlm.nih.gov/26372109/
[2] A LENYO BRT eszközök nem szolgálnak betegségek diagnosztizálására, kezelésére, gyógyítására vagy megelőzésére. Olyan általános előnyöket nyújtanak, amelyek a PEMF-alapú terápiás eszközökkel kapcsolatban már ismertek.
Javasoljuk, hogy ha bármilyen egészségügyi problémája vagy sérülése van, konzultáljon orvosával vagy egészségügyi szakemberrel, mielőtt bármilyen LENYO BRT eszközt használna. A LENYO BRT készülékek CE-jelöléssel ellátott wellness eszközök, és az FDA nyilvántartásában 1. osztályú terápiás eszközként szerepelnek.